Keynotes & Event Speaking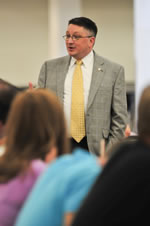 Need an innovative, forward thinking and inspirational speaker? Nationally known author, former school administrator, and Professor Timothy B. Jones has you covered for occasions and events such as:
District or University Convocations
Back to School Assemblies and Meetings
Parent/Teacher Organization Events
Professional Conferences
General Faculty Meetings
Civic Meetings
Chamber of Commerce Events
Dr. Jones prepares a customized keynote or event speech sure to entertain and touch your audience.  Recent topics have included:
Public Schools for the Future
10 Ways for Teachers to Have a Great Year
School Improvement: The Time is Yesterday!
Why Brain-Based Schools?
School Law for Everyone
The Kids Show Up on Monday. What Are We Going to Do?
If Schools Are To Be Exciting for Kids, They Have To Be Exciting for Adults!
Texas School Finance: The Next Lawsuit
Got a special event coming up? Let us help make your event a success. Early booking is strongly encouraged.